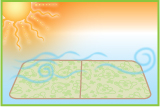 Breathable and dry
Absorb and disperse sweat fast, making baby feel dry and comfortable. Do not stick to skin during hot summer. Enhance sleep quality. Perform a comfortable life across the seasons - warm in winter, cool in summer.
Antibacterial and Antifungal
With natural antibacterial, antifungal, bacteriostasis and deodorization functions. Do not cause any allergic reaction to skin.
Absorption and Emission of Far Infrared Radiation
Absorb far infrared radiation from the environment, and emit them to help in cell activation, promotes blood circulation.